Persian City carpets and rugs are woven in Isfahan, Nain (in the province of Isfahan), Tabriz and Qom.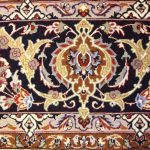 These are all the highest of quality and the finest of all Persian carpets. The city carpets have only been in production for the past 80 to 90 years, unlike the tribal rug which has been woven for centuries. Therefore, Persian City Carpets are known by highest quality Persian Rugs.
Their materials are Warp (Cotton or silk), Weft (Cotton or silk) and Pile  mixture of (wool and silk) or pure silk for a Qom carpet.
Each of the regions produce rugs with a variety of designs and individual weaving styles. Iran produces some of the finest persian carpets and rugs in the world. Besides that these are more commonly known as Persian Rugs.